Big Quake Hits Bárðarbunga, Further Subsidence of Caldera
A subsidence of approximately 15 cm (5 in) occurred in the caldera of Bárðarbunga volcano in Vatnajökull glacier following a magnitude 5.4 earthquake hitting the northern caldera at 11:15 am yesterday, as indicated by the Icelandic Met Office's GPS monitor in the caldera.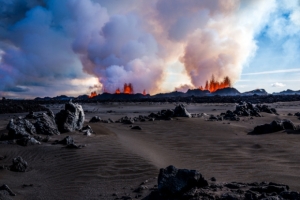 The earthquake could clearly be felt in Akureyri, Northeast Iceland, ruv.is reports. The development of the caldera subsidence can be seen in this graph.
An earthquake above magnitude 5.0 had not occurred in the area since October 12 but the number of earthquakes has increased in the past days, almost 130 quakes have been measured in a span of 24 hours.
The volcanic eruption in Holuhraun, north of Vatnajökull in the northeastern highlands, continues at a similar intensity with the lava flow being stable. The fissure eruption is fed with magma from Bárðarbunga, channeled through an underground dike intrusion.
Sulfur dioxide (SO2) gas from the eruption is expected to drift to the west from the eruption site today and affect parts of North Iceland, the southern West Fjords, West Iceland and the capital region. Pollution levels can be monitored on airquality.is.