Entrepreneur Creates Super Low Cost, Cashless Grocery
By Joshua Cook
An entrepreneur in Great Britain is creating the first cashless supermarket, appealing to people on government aid and in poorly-paid jobs.
Stelios Haji-Ioannou is the creator of easyFoodstore budget supermarket. He also created bargain airline easyJet and windowless rooms at easyHotel.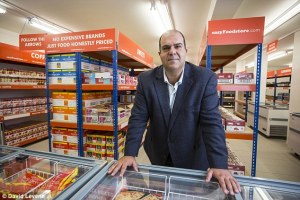 The no-frills food and service will also eventually not take cash. A spokesperson for the store told the Daily Mail that its easier to process card payments than to cash up every day and pay a security firm to bank it.
The company also said that to compete with stores like ALDI the wages will be low.
'We are aiming to be a low-cost supermarket so we need to keep costs low, property rent has got to be low, stock prices have got to be low and, inevitably, we will be looking towards the bottom end of the salary scale for employees," said a spokesman.
From Wikipedia
Sir Stelios Haji-Ioannou (Born 14 February 1967) is a British entrepreneur of Greek-Cypriot origin, currently resident in Monaco. He is the scion of a wealthy, shipowning family, but is best known for setting up easyJet, a low-cost airline and the Stelmar shipping line, with start-up funds provided by his father. easyJet's foundation in 1995 marked the beginning of a series of ventures marketed under the "easy" brand.