Denver Billionaire Spurned by Buffett Seeks Global Wi-Fi Network
By Brendan Coffey | Bloomberg News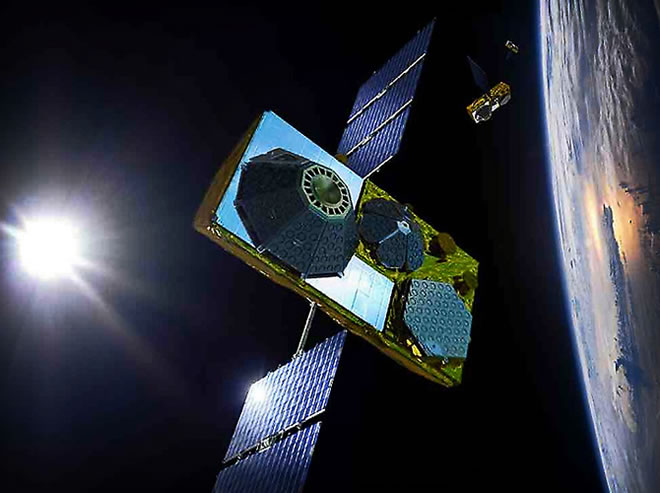 James "Jay" Monroe III isn't in a rush. Dressed in blue jeans and a monogrammed white dress shirt, the investor sips ice water and pauses to greet Dakota, his Great Dane-blue heeler mix who bounds through the Union Pacific Freighthouse in downtown Denver.
Monroe bought the building when it was derelict in the 1990s and let his kids throw rocks at the windows. Today, it's his headquarters, overlooking Coors Field and several properties he has developed in the city's revived Lower Downtown district.
"Nothing happens fast. There's a myth about that," Monroe said. "Our investment philosophy is always pretty much the same: If you know you're right and you just have to manage the problem, then make the investment."
Taking the patient approach has allowed the 59-year-old to turn his closely held Thermo Cos. into a real estate, telecommunications and financial conglomerate. Starting in 1984 with $40,000 — the money he and his wife made from selling their home — Monroe sold diesel engines and developed power plants and fiber-optic networks.
He later became majority owner of Globalstar Inc., a satellite company he bought in bankruptcy in 2003 and wants to use to sell voice and data services to the 2 billion people who live or work in the 75 percent of the world without cellular or landline access.
It has also made him a billionaire. He has a net worth of at least $3.2 billion, according to the Bloomberg Billionaires Index, and has never appeared on an international wealth ranking. Monroe, who tried and failed to get Warren Buffett to invest in Globalstar six years ago, said his adult children will be surprised to learn he has amassed such a fortune.
Globalstar, Fiberlight
"I wish I was telling you this in a bar, instead of for a story. My kids don't really know this stuff," he said, referring to his wealth. "They're both very accomplished at what they do. One is a terrific oil painter; the other, all he wanted to do is be a school teacher."
Monroe owns more than 653 million shares of Globalstar, or about 70 percent of the company, according to regulatory filings. He said he held about $500 million in TW Telecom Inc. stock, before it was acquired by Level 3 Communications in October, and owns about $400 million in shares of Kinder Morgan Management LLC, the latter of which he received selling energy assets in 2008. His stake in fiber-optics provider Fiberlight LLC is valued at $750 million, the billionaire said.
Globalstar has the potential to become Monroe's best investment or his biggest headache. The stock rallied to $4.46 in mid-July from 59 cents a year ago, pushing Monroe's net worth to more than $5 billion. A report this month from a hedge fund encouraging investors to bet against the company drove the shares down to $1.71. The company was down 4.1 percent to $2.10 at 10:01 a.m. today in New York.
'Truly Unbelievable'
At issue is Monroe's plan to covert Globalstar's voice spectrum into terrestrial Wi-Fi services. When spectrum was divvied up in the 1990s, the band Globalstar was assigned for satellite voice services — channel 14 of the 2.4 gigahertz band — was also included in the unregulated spectrum in which Wi-Fi has evolved. Every Wi-Fi enabled device already has the ability to use Globalstar's channel 14.
"It can become something truly unbelievable," said Monroe, who envisions demand from urban consumers who never want to be unconnected as they travel and from people in areas with no broadband or mobile phone coverage who want improved data and voice access.