Canada Launches First Air Strikes Against ISIL in Iraq
By albawaba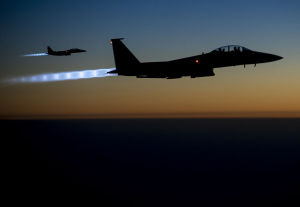 Canada has conducted its first air strike mission in Iraq, as part of the attacks carried out by the US-led coalition against ISIL militants operating in the country.
Canadian Defence Minister Rob Nicholson made the announcement in a statement on Sunday.
Two Canadian CF-18 jetfighters reportedly dropped laser-guided bombs in the vicinity of Fallujah, west of the capital, Baghdad.
The minister also said in his statement that the military will release no further information about the mission until Tuesday.
Sources say Canada's first attempt to carry out strikes had been postponed last Thursday as a result of bad weather.
From Wikipedia
Operation Impact is the name of Canada's contribution to the 2014 military intervention against the Islamic State of Iraq and the Levant. Canadian military action began on 4 September 2014, when the Canadian government announced that it would deploy up to 100 Canadian special forces to Iraq in a non-combat advisory role. It was later confirmed that around 69 forces were operating in Iraq. On 3 October, Canada's role in the intervention increased when Canadian Prime Minister Stephen Harper announced that Canada would be deploying 9 total aircraft, including 6 combat aircraft to Iraq. Airstrikes are expected to be underway by late October. Harper also did not rule out Canadian involvement in the American-led intervention in Syria, but only on the condition that Syria's government would approve of it. Canadian airstrikes in Iraq began on 2 November.