The Ferguson Pictures You Aren't Seeing Enough of
By Michael Hiscock | The Loop
Fire. Tear gas. Riot police.
There's some good hiding amongst all the bad.
That's how most people would sum up the visuals they've seen coming out of Ferguson, Missouri, lately. And to a large extent, they would be accurate. Ever since the fatal police shooting of unarmed teenager Michael Brown in August, violent protests have occurred in the city almost nightly.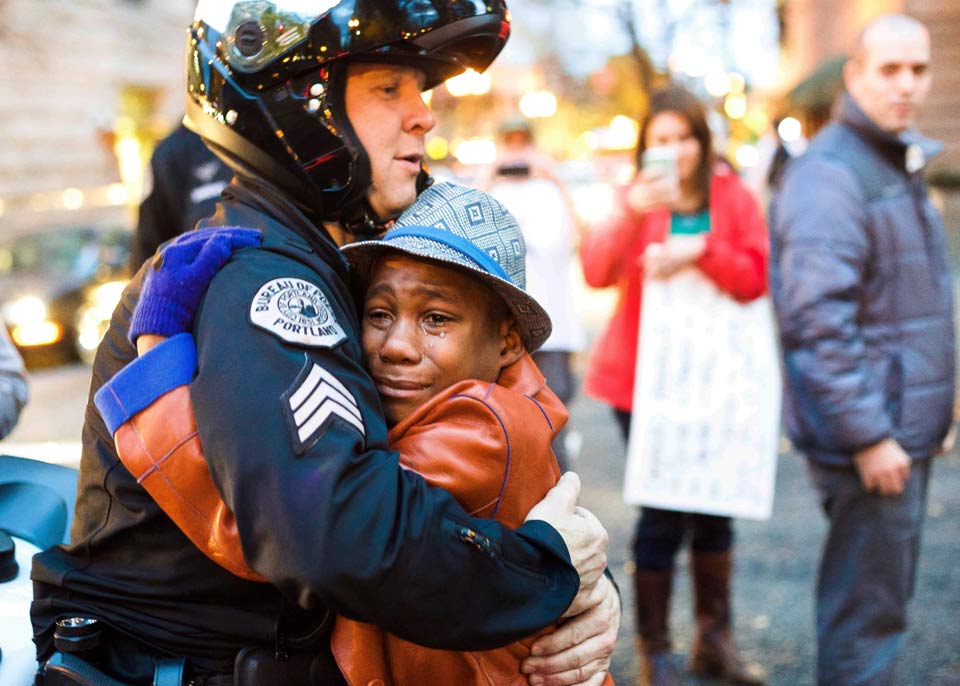 But amid the burning cars and clouds of tear gas, something else is going on. Last weekend, an image of a young boy hugging a police officer during a Ferguson demonstration in Portland, Oregon, went viral. Devonte Hart, 12, was holding a "Free Hugs" sign when the officer approached him and extended his hand.
Little Legend, Devonte Hart, changing the world one hug at a time. Ferguson protests in Portland, OR 2014 pic.twitter.com/uqHqn1j6zV

— ☪heyenne (@CheyenneDennay) December 1, 2014
Ferguson Protestor: "I don't hate you. I'd rather hug you." Cop: "So hug me." http://t.co/FqR4tAfnln YES! More please pic.twitter.com/uR2fJjfsAx

— Kevin D. Hendricks (@kevinhendricks) October 14, 2014