NSA Chief Bet Money on AT&T as It Spied on You
By Shane Harris
The former head of the world's biggest spy agency didn't just oversee the collection of billions of AT&T records. He also tried to make money off its customers.
At the same time Gen. Keith Alexander was running the National Security Agency, the United States' biggest spying outfit, he was also trading stocks in an obscure technology company that had a sweetheart deal with one of the NSA's most important sources of intelligence—the global phone and Internet giant AT&T.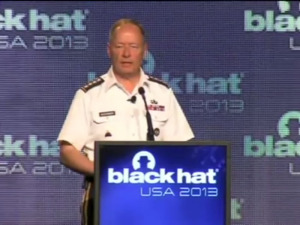 In 2008, Alexander bought and sold tens of thousands of dollars in stock in a company called Synchronoss Technologies Inc., based in Bridgewater Township, N.J., according to the retired Army general's financial-disclosure forms. You've probably never heard of Synchronoss, but, like the NSA, it probably knows who you are. If you've ever activated a new iPhone or synced your personal information across multiple devices—such as your phone, and your home and office computer—there's a chance that Synchronoss's technology helped make it happen. The company's customers are some of the largest telecommunications service providers in the world—including AT&T, Verizon, Comcast, and Time Warner Cable—along with their more than 3 billion mobile subscribers.
Back when Alexander was an investor, Synchronoss was providing the technology that activated and "locked" all new Apple iPhones onto AT&T's network. The carrier was then the exclusive voice and data service provider for the popular new iPhone, so Alexander stood to profit every time someone bought an iPhone and automatically became an AT&T customer.
The NSA also had its own special relationship with AT&T. Under secret court orders, the agency was then hoovering up the phone records of AT&T's subscribers and pouring them into a database of who called whom in the United States, stretching back several years. After the 9/11 terrorist attacks, the NSA also had secretly installed communications surveillance equipment in some of AT&T's offices, under orders from President George W. Bush. AT&T is arguably the most important source of communications for the NSA's eavesdroppers because the company owns and operates a huge portion of the United States mobile, landline, and Internet infrastructure.
The deal between AT&T and Synchronoss wasn't a secret, but Alexander's financial stake in it was. The NSA only handed over his financial-disclosure forms showing that he was an investor in October, following a lawsuit by investigative journalist Jason Leopold. The agency initially had claimed that revealing any of Alexander's investments could jeopardize national security.