New York Confiscating Guns From Owners Deemed Mentally Unstable
By By James T. Mulder | Liberty Crier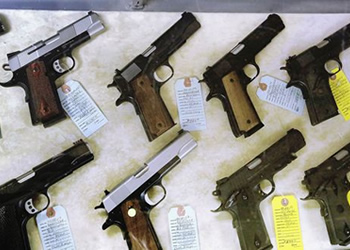 Syracuse, N.Y. — New York state has identified 278 licensed gun owners who could lose their weapons because they are considered mentally unstable.
At least eight of them are Central New Yorkers, half of whom have had their guns and permits taken away by authorities.
Psychiatrists and other health professionals reported these individuals to the state because they appeared to be at risk of harming themselves or others. Under a provision of the New York SAFE Act gun control law, mental health providers have reported 38,718 at-risk patients, 737 of them from Central New York. Those reports are cross checked against a list of pistol permit holders. Less than 1 percent of the mental health reports statewide involved people with pistol permits.
The SAFE Act took effect March 16, 2013. Gov. Andrew Cuomo and legislators quickly pushed through the law with no public input after the 2012 mass shooting at Sandy Hook Elementary School in Newtown, Conn.
The state Division of Criminal Justice Services provided county-by-county statistics from the database in response to a Freedom of Information Law request from syracuse.com.
Here's how many mentally unstable residents of local counties had pistol permits as of Oct. 3, according to the database: Onondaga, 3; Cayuga, 2; Cortland 1, Madison, 2; and Osweg0. Some county officials say the numbers are higher than that.