Colorado's First Legal Hemp Harvest Since 1957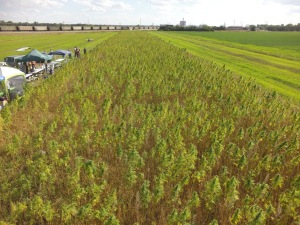 Boosters of industrial hemp often fondly refer to the plant as a wonder crop, usable in everything from building materials to batteries to breakfast cereal. Since Colorado voters legalized both hemp and marijuana with the passage of Amendment 64 in 2012, hemp advocates have been buzzing about the state's promise as a manufacturing hub for this dizzying array of products. Yet even as Colorado farmers make history this fall with the first legal commercial hemp harvest on U.S. soil in 57 years, it's unlikely that much of their bounty will go toward the plant's diverse list of potential uses.
Instead, hobbled by a longstanding federal ban on shipping hemp seed across state lines, most Colorado hemp farmers are squirreling away their seed supply, using this year's harvest as a source of next year's supply in an attempt to vastly increase planted acreage in 2015 with Colorado-grown seed stock.
"In an ideal world we'd grow between 1,500 and 2,000 acres of hemp next year, said J.R. Knaub, a 37-year-old farmer in the northeastern Colorado town of Sterling who has been growing corn, sugar beets and alfalfa for the last 20 years and this year planted around 2 acres of hemp. "But getting seed will be the biggest task we have to conquer."
The federally-induced seed shortage has already stunted the growth of Colorado's hemp industry: Last spring, farmers registered with the Colorado Department of Agriculture to plant nearly 1,600 acres of hemp. Yet seed shortages, poor germination rates and inexperience with the crop will limit their harvest this fall to about 200 acres, according to Zev Paiss of the Rocky Mountain Hemp Association.
"This year, because it was so hard to get seed, people were buying whatever they could get a hold of, and it wasn't always the best seed," said Paiss. "Because of that, I've heard that the amount of germination farmers achieved varied widely."
In light of the shortage, Colorado hemp farmers appear to be prioritizing seed saving this fall over other potential uses for their hemp crops. The state Department of Agriculture requires hemp farmers to submit a form at least 30 days before harvest detailing what they plan to do with their plants, and as of late September, 27 farmers had written that they plan to use their crop primarily for seed saving purposes. Just 14 farmers had plans to experiment with making construction materials, textiles, medicines and other hemp-based products, and only one farmer planned to sell seed to other growers this fall. (As this story was published, "harvest notification" forms continued to roll in from farmers around the state).