A Future Ebola Solution? Scientists Discover First Virological Penicillin?
by Mike Barrett
Western medicine has evolved tremendously over the years. While not perfect, we are in a better situation than 100 years ago when it comes to fending off disease. One of those primary advancements came in the form of antibiotics, able to treat numerous bacterial infections (though certainly not risk-free). Now, researchers from China have discovered what they call the first 'virological penicillin,' which may prove to be the next 'antibiotic for viruses.' Even better news, it comes in the form of a natural, ancient Chinese herb. Perhaps this is what we should have been researching for the next Ebola outbreak.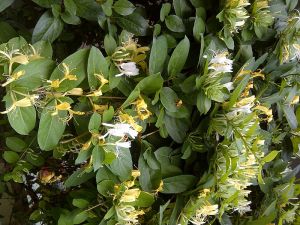 Eager to discover the virus-inhibiting properties of the honeysuckle plant (lonicera japonica), a team of researchers headed by Dr. Chen-Yu Zhang of Nanjing University in China has identified a molecule within the plant known as MIR2911 (honeysuckle-encoded atypical microRNA2911). This molecule is said to be the first active component directly targeting various influenza viruses, including the swine flu H1N1, highly pathogenic avian H5N1 and H7N9 infections.
Actually, the honeysuckle herb is a well-known natural remedy for numerous ailments. In Traditional Chinese Medicine, the plant has been used to treat influenza infection for centuries – effectively. This is now backed up by scientific literature, which have typically studied the herb's effects while it was consumed in tea form.