First Currency Trading Center Opened on Vietnam-China Border
By Want China Times
China has opened a currency trading center on the border with Vietnam, the first of its kind in the country that has effectively reduced rampant and illegal private foreign exchange trading there, Shanghai's China Business News reports.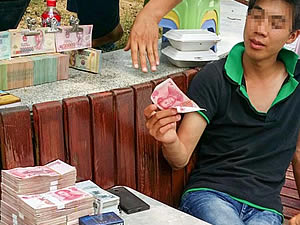 In Vietnam, it requires tens of thousands of Chinese yuan to obtain the government's approval for the establishment of a bank, the main reason behind the rampant illegal private forex trading at the border, according to the report.
Before 2009, exchanges between the two currencies had to be conducted via US dollars in local banks, contributing to the rise of "bank stalls" that provided the illegal service of direct exchanges between the Chinese yuan and the Vietnamese dong in the cross-border region.
Merchants in Dongxing in southern China's Guangxi Zhuang autonomous region near the border with Vietnam had to conduct currency conversions through such "bank stalls," where there could a huge difference currency exchange rates from one stall to the next, the report said.
Since there was no official exchange rate from yuan to dong, the market price was determined by local "bank stalls" and the conversion process was simple and underdeveloped.
Since China established a currency trading center on the China-Vietnam border in April though, the situation of rampant illegal private currency trading has improved significantly.
The ASEAN (Association of Southeast Asian Nations) Currency Business Center, initiated by the Agricultural Bank of China in Dongxing, allows direct convertibility of yuan and dong by both individuals and companies.
China was Vietnam's largest trade partner in 2013 with its total turnover reaching US$50 billion, up 22% year-on-year, according to Vietnam customs authorities.
In 2013, Vietnam spent US$ 37 billion on imports from China, up 28.4%, while it exported US$ 13 billion worth of goods to China, up 7% year-on-year.
After it began promoting the yuan's globalization in 2009, China launched a series of programs to promote usage. These included a pilot program to expand the investment quota under its renminbi qualified foreign institutional investors (RQFII) that allows foreign investors access to stocks traded on China's mainland. They also liberalized the yuan's capital account in Shanghai's free trade zone.
The government has also launched a pilot scheme to boost the cross-border use of yuan and a scheme to connect the Shanghai stock exchange to its counterpart in Hong Kong, among others.